Welcome to 2020 Final Four Packages
22-24 May - Cologne / Germany
Our packages include 2 game days pass* and accommodation for 3 nights (Bed and Breakfast)
22/05/20 – 2 Semi-final Gmaes - 24/05/20 – 3rd Place & Final Games
Zone: 718

From: 610.00 EUR

Zone: 708

From: 810.00 EUR

Zone: 612

From: 780.00 EUR

Zone: 606

From: 1025.00 EUR

Zone: 204

From: 1150.00 EUR

Zone: 207

From: 1150.00 EUR

Zone: 205

From: 1400.00 EUR
City Tax in Cologne (5% of the accommodation rate) is included.
We guarantee that all tickets you purchased for the same sector in the same transaction will be seated together.
Children under 16 must be accompanied by an adult aged 18 or over. Children who have not reached the age of 36 months by 22nd May, 2020 may enter the Arena without a Ticket provided that they are accompanied by an adult, with whom they will share the seat. Children born earlier than 22nd May, 2017 will not be allowed to enter the Arena without a Ticket. In order to demonstrate the age of the child, their ID or any other proof of age will have to be shown at the entrance
The Turkish Airlines EuroLeague Final Four, which is highly anticipated by basketball fans, will be played between the 22nd and 24th of May 2020 in Cologne, Germany. Lanxess Arena, which will host the games has a capacity of more than 18 thousand people and will keep the final enthusiasm alive!
With the addition of new teams to the league, everyone is wondering in the 2019/2020 season which teams will be in the finals in and which team will lift the trophy. Remember, no matter which team you support, whatever the outcome is, it's going to be a great experience for you to watch the Euroleague Final Four 2020 live in the arena! You can buy game tickets and packages in order to live this experience on-site and witness unforgettable moments throughout your life.
How do I get Euroleague 2020 Final Four travel packages?
In order to watch the games of Europe's top four basketball teams competing for the trophy and to explore the city of Cologne in Germany, first, you have to buy your ticket for the game and then after you may choose the one of the most beautiful hotels of the city we have chosen for you.
Tripoki by DETUR, the official travel agency of the Euroleague Basketball allows you to plan your travels. Meeting all travel needs for Euroleague's staff, referees, participants Final Four teams and media officials, Tripoki offers to its users the ability to quickly and easily make all travel planning, including events, from a single point. Tripoki, which sells tickets and travel packages for Final Four, offers accommodation and many other travel services with your game tickets. With a unique game experience with Tripoki, you can have a comfortable stay with the different hotel options offered and benefit from the facilities of the hotels. You can buy tickets and packages for the Euroleague 2020 Final Four from Tripoki and while you're supporting your team you will be witnessing an unforgettable moment throughout your life.
Buy a limited number of 2020 Turkish Airlines Euroleague Final Four tickets and travel packages before they run out and experience the excitement of Final Four in Cologne this year!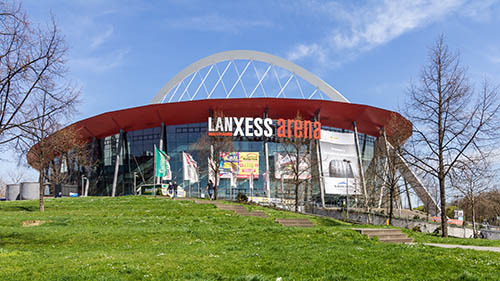 Since 1998, Lanxess Arena has been used as an indoor sports complex in Cologne, Germany. The arena is used for basketball competitions as well as ice hockey, handball and concerts.
Address: Willy-Brandt-Platz 3, 50679 Köln, Germany
Capacity: 18.000